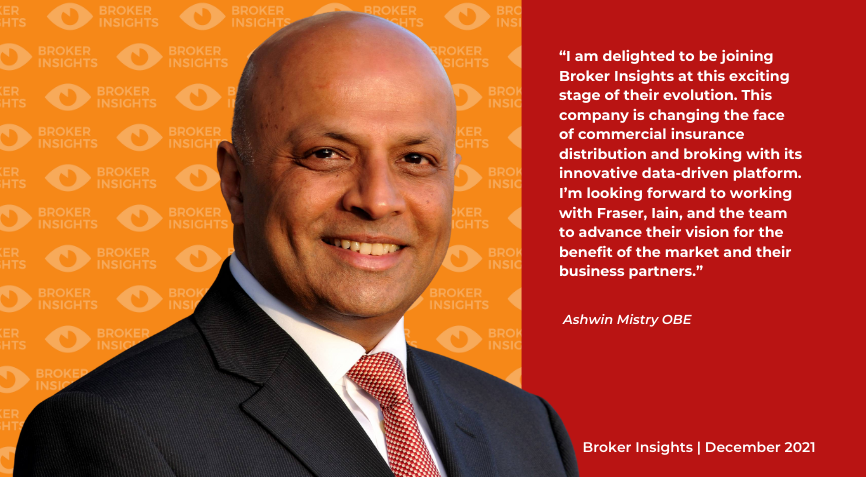 6th January, 2022
Broker Insights is pleased to announce the appointment of Ashwin Mistry OBE as a Non-Executive Advisor to the board.
Mr. Mistry brings over 30 years' of industry experience to Broker Insights, as owner and director of BHIB Insurance Brokers before selling the company to Clear Group, and as the Executive Chairman of Brokerbility. Ashwin also served as CII President and in recognition for his work in education and careers within the industry, he was awarded an OBE in 2000's New Year Honours.
Mr. Mistry's appointment comes at a pivotal time for Broker Insights as we look to accelerate the development of the platform and scale the business.
Broker Insights has introduced a transformational change to the intermediated commercial market since we launched in 2018, encouraging more brokers and insurers to embrace the positive improvements technology and use of data can bring to their businesses. The unique platform complements existing trading practices by providing a place for brokers to connect with the right insurers for their customers more efficiently, and for insurers to distribute products more effectively within the commercial intermediary market.
Speaking on his new position, Mr. Mistry is enthusiastic about the future of Broker Insights.
"I am delighted to be joining Broker Insights at this exciting stage of their evolution. This company is changing the face of commercial insurance distribution and broking with its innovative data-driven platform. I'm looking forward to working with Fraser, Iain, and the team to advance their vision for the benefit of the market and their business partners."
Broker Insights CEO, Fraser Edmond, believes that having Mr. Mistry on board will give Broker Insights a significant boost towards realising growth ambitions.
"Having known Ashwin for many years, we are delighted to welcome him to the business. Ashwin brings a deep understanding of broking, the industry as a whole and has fantastic connectivity and influence within the market. These skills and experience will help drive both our growth ambitions and also the future development of our platform proposition and community of brokers and insurers."